The Alex
Environmental, vehicle & print design
---
---
Creating unique spaces and stories for an innovative nonprofit that improves the health outcomes for vulnerable Calgarians.
---
Challenge
With clinical and social components included in all their programs, the Alex tackles tough health and social issues head-on. Their preventative approach saves taxpayer dollars by moving people from poverty to stability and from crisis to wellness. Over several years, the Alex has tapped Atom Studio for assistance with three main challenges.


First, wayfinding & murals. The family clinic at the Alex is an inclusive space and state-of-the-art facility that serves people who may fall through the cracks of our health system. The space was in need of a re-think as it felt institutional and cold, and could trigger clients that have had negative experiences in other clinics or hospitals.

Second, the community health bus wrap. One of the most innovative services at the Alex is their community health bus, which is a full working clinic with staff that travels around Calgary serving those who need heathcare but may be unable to make it to a clinic. This bus needed to be recognizable and inviting for clients.

Third, annual reports. Reports to the community are important to nonprofits. They demonstrate value for funding partners, and create credibility with the public. These annual reports are used year-round to advocate and inform. They must be kept affordable to fit within the confines of a nonprofit budget.
Read More. +
Result
In order to warm the space up, Atom Studio provided a guide for painting the clinic doors and hallways in a playful way that reinforces the Alex' welcoming brand. We had to consider directional signage for all vantage points and ensure it helped people easily find their way around, including washrooms and examination rooms.
We found a partner to manufacture all the signage and incorporate wood elements that lend an organic friendliness.

Since families with kids use the clinic, we included animals in playful locations throughout. The nursing stations were identified by colour, making it easier to direct people to the right one, even if English is their second language.

On the Health Bus, our designer came up with the concept of silhouettes of diverse people facing forward in solidarity. Our in-house illustrator brought a hand-painted quality to these silhouttes. The result is inclusive and eye-catching. TELUS (a partner on the project) loved the design so much that they commissioned a similar design for a health bus in Ottawa.

For the annual report, we chose to go with newsprint. This not only kept the printing costs well within budget, but it gave a unique, newsworthy feel to the content. Typography choices emphasized the newspaper feel further. Incorporating illustration ensured the aesthetic is still inviting and fun to read.
Read More. +
Read More. +
---
The folks at Atom Studio have been our go-to creative team for the past five years. From annual reports to large-scale environmental design projects, I know James and his team will deliver thoughtful, gorgeous, surprising results that elevate our organization's brand. They work to understand my needs, and provide a timely, painless path towards excellence. It is always a pleasure to work on a new project with Atom Studio.

Johanna Schwartz
Communications Manager, The Alex
---
Wayfinding & murals
We considered the whole space when coming up with the designs. The murals and animal cutouts provide fun surprises, and the paint colours in the hallways create a welcoming space. Strategically placed signage ensures people know where they are.
---
Health bus wrap
This bus is a full working clinic with staff that travels around Calgary serving those who need heathcare but may be unable to make it to a clinic. It needs to get noticed and feel welcoming. Inclusivity is an important part of The Alex, so we created an illustration that celebrates diversity.
---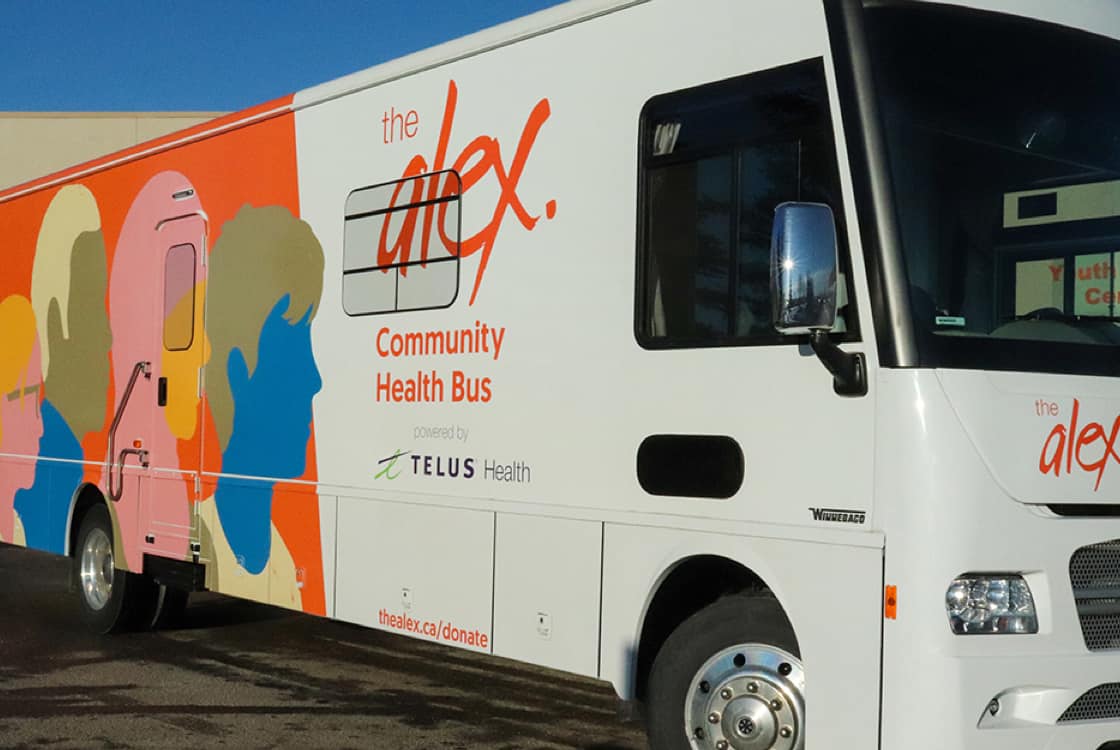 Annual reports
The Alex uses its annual report as a marketing piece year round. They need a lot of copies, and the cost needs to be kept down. Printing on newsprint is inexpensive, and unusual for an annual report. It also underlines the 'newsworthy' aspects of the stories inside. Typography for the masthead and headlines was chosen to accentuate the newspaper feel. For both annual reports shown here, we leveraged illustration to tell the case studies. This protects people's privacy while still allowing an emotional connection to the people in the stories.
---
Team
Art direction: James Jensen
Design: Morgan Curley, Jessye Cook, Chandra Vermeulen
Illustration: Josh Holinaty, Louisa Jensen