Centre for Suicide Prevention
Annual reports
---
---
Annual reports that you can touch and experience – renewing the conversation about suicide prevention.
---
Challenge
Suicide is a difficult topic for many people to discuss. As a charity, CSP is responsible for providing a year-end report to their stakeholders and the community, sharing the work they do. The reports serve as important marketing pieces in garnering support and raising awareness about suicide prevention
Aligned with the annual release of CSP's report is the annual World Suicide Prevention Day (WSPD) that takes place on September 10. This day is dedicated to a renewed commitment and action to prevent suicide. With in-person events that run during this time, print materials such as posters are required to commemorate it.
Read More. +
Result
Every year, the Atom Studio team is tasked with finding innovative ways to present CSP's Annual Reports in a way that is interactive, tactile, memorable, and meaningful.

To further elevate the report and bring it to life
the design team closely collaborates with printers to use special folding and printing techniques. The goal is to continue keeping suicide prevention alive in the public consciousness.

In a world where everything is going digital, a compelling work of art that can be held in your hands goes a long way to make the stigma of suicide as a topic more accessible, and to keep the conversation going with funders, partners, and key stakeholders on prevention.
Read More. +
Read More. +
---
James and his team completely immersed themselves in our work and created a brand that conveys the credibility of our organization, the complexity and depth of our field, while also capturing the hopefulness of suicide prevention. We now have a brand and website that truly reflects our work, and we've seen the benefits of this through massively increased visits to our website, increased interest in our print pieces, and the ease with which people are able to digest this complex but important information through the new branding.

Crystal Walker
Communication Coordinator, Centre for Suicide Prevention
---
2022 Annual Report
For 2022, we designed an accordion-fold piece that tells their story and guides the viewer with soft illustrations by Tallulah Fontaine. For printing, we incorporated a bright orange spot colour to make it stand out.
---
---
---
---
---
---
---
2021 Annual Report
To celebrate CSP's 40 year anniversary, fluorescent ink and an accordion fold were used to highlight and showcase a timeline that spans key milestones in the organization.
---

---
2020 Annual Report
Each side of the square represents one of the four pillars of suicide prevention: meaning, purpose, hope and belonging. This report symbolizes bringing those pieces together. This piece won best annual report design in the 2021 Anvil Awards.
---
---
2019 Annual Report
This innovative folding technique was used to create an interactive experience. Full colour with the addition of varnish was utilized for added effects.
---
---
2018 Annual Report
This was a series of cards held together by a 'belly band'. With unique textures and illustrations on the back, the deck of cards can be assembled like a puzzle.
---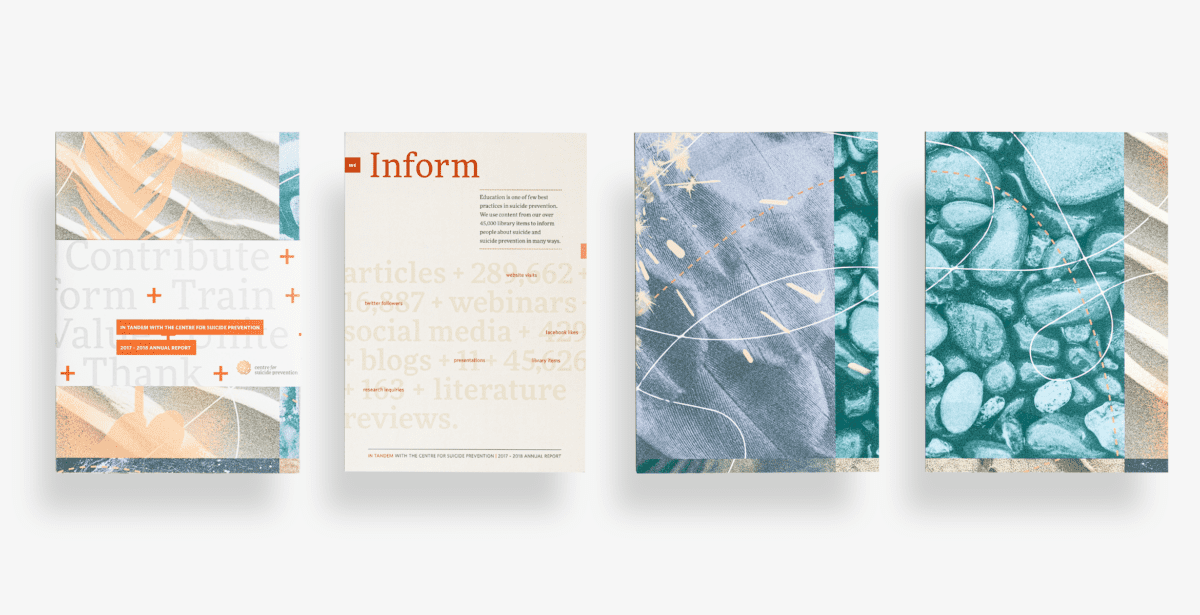 ---
2017 Annual Report
The theme for this year focused on partnerships with an emphasis and recognition of CSP being a part of a larger community of suicide prevention. Numerous partners including nonprofit organizations were included to capture the suicide prevention ecosystem. The facets of suicide prevention are captured in this piece representing the community at large addressing suicide prevention.
---
---
---
Team
Art direction: James Jensen
Design: Matthew Jacula, Fran Motta, Morgan Curley, Kagari Kaneoka