Little Red Reading House
Brand identity & website
---
---
Creating a magical brand for a magical place that supports early literacy.
---
Challenge
Calgary Reads is an early literacy organization that provides children the essentials to become thriving readers – their very own books, strong reading role models, and fun reading spaces. As part of its mandate, Calgary Reads created the Little Red Reading House (LRRH) – a house located in Inglewood, Calgary dedicated to
creating a fun and welcoming environment for children and their families to discover the joy of reading together.

LRRH is a standalone initiative, and needed a brand that was separate from Calgary Reads. It also needed a website that could effectively explain the place, and generate revenue through an online booking system, including the ability to sell annual memberships.
Read More. +
Result
The Atom team created a logo and brand identity that is charming and imaginative. This included the creation of illustrations and a custom pattern by Louisa Jensen to keep content engaging and memorable.

Standout features of the website include a
homepage that tells the story as to why early literacy is important, and a robust booking system that ensured people could stay safe during the COVID-19 pandemic.

The public's reaction to the new brand was very positive, and has generated sales through swag, memberships and other products in their online store.
Read More. +
Read More. +
---
We adore the website Atom Studio created for Little Red Reading House. The whimsical, one-of-a-kind design and charming, bespoke illustrations so beautifully capture the spirit of our special brand – delighting and surprising just the way the house does.

Steacy Pinney
CEO, Calgary Reads
---
Brand Personality
Colours
Typography
Logo
Website
The website presents a compelling narrative on why childhood literacy is a problem and what Little Read Reading House is doing to change that.
---
---
---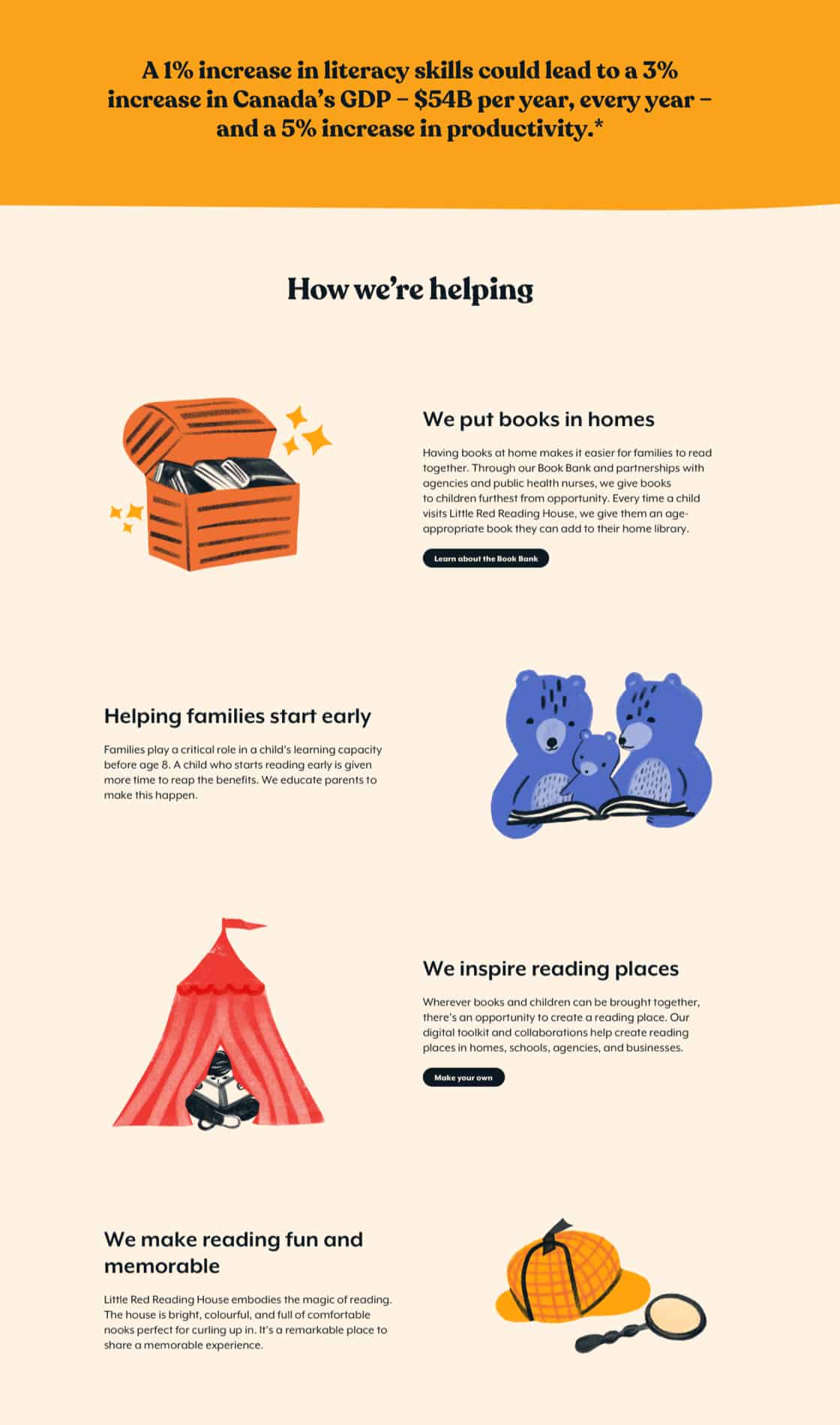 Pattern
This repeating two-color pattern is a versatile part of the brand that can be used for the website, swag, and social media assets.
---
Brand collateral
The Atom team designed swag items such as pins, tote bags, keychains, and sticker sheets. These are sold on the website and support the funding of Little Red Reading House.
---
---
---
Illustrations
Custom illustrations were created by Louisa Jensen to make the website engaging and memorable.
---
---
Little Red Reading Van & flags
The Little Red Reading Van travels to all corners of the city, bringing books and a fun reading environment for children. The exterior van wrap and flags are playful leveraging large illustrations to invite children to engage in the space.
---
---
Team
Art direction: James Jensen
Design lead: Matthew Jacula
Illustration: Louisa Jensen
Development: Jennifer Leigh

Project management: Evonne Tran

Writing: Anders J. Svensson